WPMC2020
Virtual Edition
October 19-26

The 23rd International Symposium on
Wireless Personal Multimedia Communications
will be held from October 19 to 26
as
Virtual Edition
2020-07-20
New Deadlines!
Notification of Acceptance for Regular Papers      September 1, 2020
Deadline for Final Manuscripts                                  September 15,2020
Deadline for Presentation Video                                October 1, 2020
2020-07-10
Final : Paper submission deadline is extended to July 17, 2020.

2020-06-30
Paper submission deadline is extended to July 10, 2020.

2020-06-26
Virtual symposium venue will open from October 19 (Mon) to 26 (Mon).
Registration Fee is US$100 (Same Fee for All Participants).
May 14, 2020
The Committee has decided to hold WPMC2020 as a Virtual Edition in October 18-21, 2020.
Important dates are;
Full Papers Submission                                                                          June 30, 2020
Special Session Proposal                                                                       August 1, 2020
Notification of Acceptance for Regular Papers                                  August 16, 2020
Deadline for Final Manuscripts                                                              September 1, 2020
The style of a Virtual conference and more detailed information will be shown in the near future.
Please note that submitted papers will be reviewed in a normal procedure, and accepted papers will be published in IEEE Xplore.
WPMC2021 will be held in Okayama in 2021. The detailed schedule will be shown in the near future.
May 13, 2020
Tentatively, paper submissions are not accepted until the conclusion of the Local Executive Committees is shown.
We will show the updated information as soon as possible.

As you are aware, the World Health Organization officially declared the novel corona virus (COVID-19) pandemic.
At the moment, WPMC2020 will be held as a planned schedule from October 18-21 in Okayama, Japan.
However, please know that the schedule of WPMC2020 including the deadlines of paper submission, notification of acceptance and final manuscripts submission will be affected by the status of COVID-19 outbreak.
Principal Patrons and Sponsors
Grant Support Organizations
Academic Technical Sponsors
The WPMC symposium series were inaugurated in 1998, as a global platform which aims at enabling collaboration in the field of wireless information. Held in Asia, Europe and America, WPMC has established itself as a unique global conference dedicated to wireless multimedia convergence. Continuing the series, the 23rd WPMC will bring together academia, industries and standardization bodies to explore activities, trends and future challenges towards ICT globalization for health and wellness issues in existing and future wireless technologies.
A key emphasis of this conference is "Global platform for convergence of wireless technology and businesses", which provides border less smart society – bridging across industries, public and private companies, universities, research labs, and other knowledge societies in exploration of the newest wireless technologies pursuing new ways of living as well as innovative and sustainable solutions for the future.
We look forward to receive your contributions and to see you at the conference of WPMC2020.
Greeting from General Chair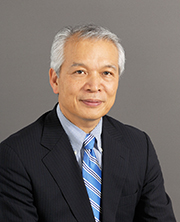 It is my great pleasure to hold the 23rd International Symposium on Wireless Personal Multimedia Communications, WPMC 2020 as a remote conference of WPMC2020 Virtual Edition, because of the global spread of COVID-19.
The WPMC symposium series first commenced in 1998, as a unique international conference dedicated to wireless multimedia communications aiming for global collaboration. The symposium is widely held in Asia, Europe, America, and other regions, and growing year by year.
At this symposium, I hope that all participants over the Internet enjoy technical presentations as well as related discussions and experiences in a new style of a virtual conference. The symposium will surely allow participants to expand their field of view and experiences.
I would like to take this opportunity to thank the Honorary Chair of WPMC 2020 Virtual Edition, Prof. Hirofumi Makino, President of Okayama University, and all distinguished committee members and relevant staff of this symposium.


Dr. Hideyuki Tokuda,
President, National Institute of Information and Communications Technology, Japan